EMPLOYMENT
Toblers Flowers employees work as a team. As an industry leader we believe in the Toblers Flowers way of look, style and feel in everything we do, from a professional attitude to a genuine smile that reflects a positive attitude which leads to a great working environment.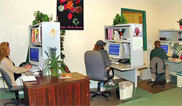 Do you have integrity and passion of excellence?
We have built a reputation for excellence throughout the floral industry with an exceptional product complimented with the finest customer service. Everything we do is built around integrity. Our teams constantly challenge themselves and this talent and hard work is recognized and rewarded. We are looking for dynamic individuals with a real passion for providing excellent customer service to our discerning customers and for developing people to the next level. If you want to share in our success then we look forward to hearing from you.
Thinking about moving to Kansas City? Contact us online or call (800) 377-1999 and ask for Brian Auckland to discuss all possibilities. Toblers Flowers is proud to be a drug-free workplace.